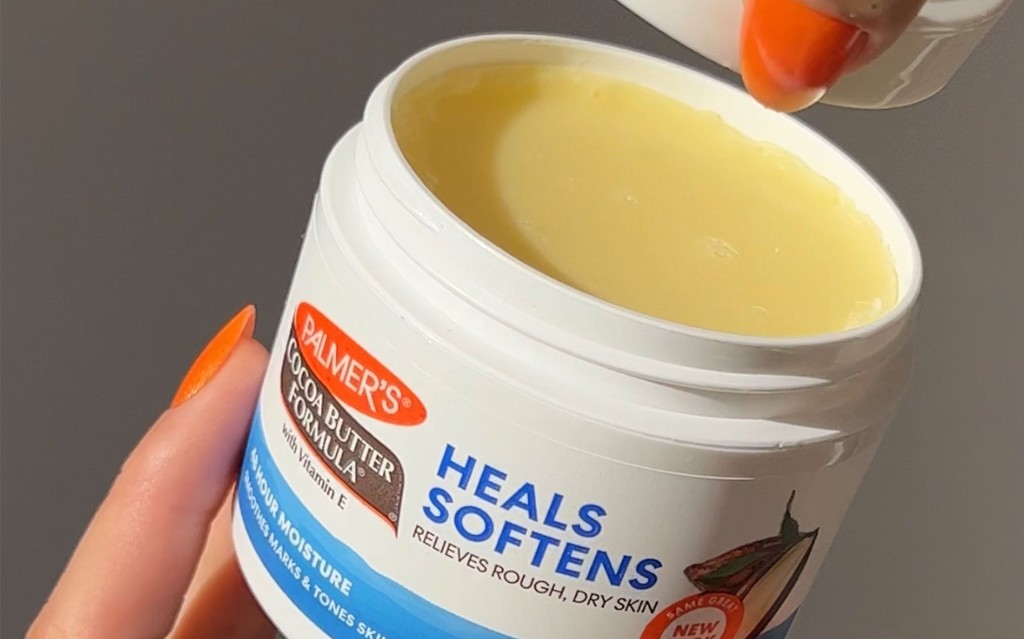 How to Use Cocoa Butter for Cracked Heels & Feet
Your feet can become dry and cracked at any time of year. So what is the trick for relieving cracked heels? You can use cocoa butter for feet and heels year-round. It's great for men, women, and children, too!
Cocoa butter-based products, like the classic solid balm, are known to relieve skin irritation while deeply moisturizing skin. As skin becomes softer and more pliable, it's less likely to crack or become irritated. If you can't prevent dryness, you can treat it with an array of cocoa butter and Vitamin E products.
Read on to learn more about using cocoa butter for feet and heels.
Why is Cocoa Butter Good for You?
When you think of cocoa butter, you may think of your favorite chocolate bar, but this versatile ingredient is ideal for use in skin care products due to its high fat content and body temperature melting point that allows it to easily and quickly absorb into skin. When blended with Vitamin E, this superior healing duo leaves your skin healthier looking and feeling. After applying Palmer's Cocoa Butter for feet, you can expect softer, smoother and healed heels.
Cocoa butter is perfect for all skin types from sensitive to eczema-prone to dry, helping to heal rough or extra dry skin - like cracked heels and dry feet! It helps ease dry, itchy skin and moisturizes dehydrated skin - allowing the skin to heal properly after getting dried out and damaged.
You can use cocoa butter for feet, heels, and other body parts easily prone to dryness like elbows, knees, and your face to keep your skin soft, smooth and healthy-looking and feeling.
Cocoa Butter for Feet and Heels
Why is cocoa butter cream good for feet? Cocoa butter can easily melt into your skin, dry spots, and cracks. For deeply cracked heels, achieving softness is crucial. Cracks can be painful when walking or playing sports and can even bleed.
Cocoa butter is moisturizing and safe to use head to toe for rich hydration. Extra dry skin or cracked feet? Try using balms and creams that are a thicker consistency to provide deep, long lasting and healing moisture where you need it most. Use your cocoa butter body lotion daily to help keep your heels soft and smooth, instead of cracked and painful.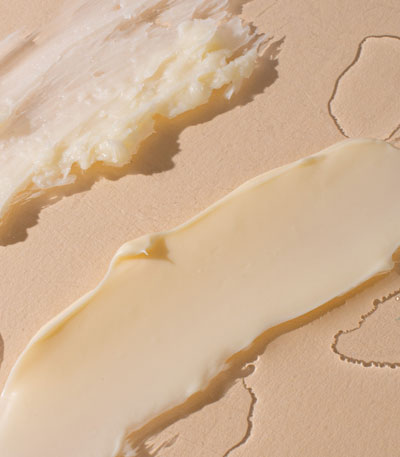 Is cocoa butter cream good for feet? The answer is a resounding "yes!" Palmer's Cocoa Butter Formula creams, balms and lotions provide 48 hours of intense moisture to keep feet hydrated and smooth.
Essential Tips for Treating Dry Skin on Feet
If your feet become dry from too much fun in the sun during the summer or too much cold, dry air in the winter, it's time to show your feet some love and Palmer's can help with relieving your cracked heels . Still wondering, "is cocoa butter good for your feet?", try these simple steps.
Wash and dry your feet.
Use a pumice stone to gently rub off any dead skin cells, being careful not to push too hard.
Add a quarter-size amount of balm or lotion to your hand and gently massage in any cream until it's fully absorbed. Be sure to do this on both feet, and feel free to repeat or layer your favorite cocoa butter for feet products as necessary.
Put on breathable cotton socks that won't restrict your feet but will provide airflow. If you put cocoa butter on your feet before bed, you'll notice the difference when you wake up. That sounds like a recipe for a good morning.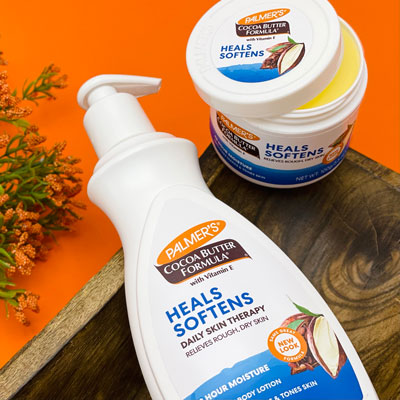 So, is cocoa butter good for your feet? Yes - cocoa butter is moisturizing and perfect for relieving cracked heels! Try Palmer's Cocoa Butter Formula collection of lotions, balms and creams for relieving your cracked heels and dry feet and get your feet ready to show off - whether it's sandal or boot season!
Want to know more ways that you can use the Original Solid Jar to keep your skin soft and smooth all year? Check out the 101 uses!
---